About Blair Karsch
Download The Karsch Fried Book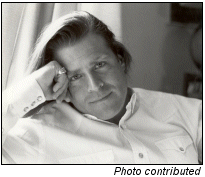 Born in Indianapolis, Indiana, Blair Karsch has become a visible and remembered personality among school-age youth. Karsch attended North Central High School in Indianapolis and graduated in 1976. During his time at North Central, he participated in many extra-curricular activities including student council and tennis, which he still plays today. Karsch also graduated from a class that included national recording artist Kenneth "Babyface" Edmonds, and astronaut David Wolf.
After high school, Blair went on to Indiana University in Bloomington. While there, he earned degrees in political science, psychology, and a minor in telecommunications. After graduating from Indiana University in the summer of 1980, Blair moved to California to pursue a dream in show business.
While in California, he worked as an extra in such shows as: A-Team, Cheers, Dynasty, Hotel, and The Love Boat. He also had a small part in Fatal Pulse. Inspired by TV personality Art Linkletter, Blair decided that the life of an extra just wasn't for him.
"I was getting up at six in the morning and playing cops and robbers or drinking fake beer and eating peanuts. It didn't offer me the depth," said Karsch. "My soul searchs for depth. This is what I wanted."
The depth that Karsch wanted was to work with youth. With his love for television and his compassion for youth, Karsch worked (and still works) as a substitute teacher. During this time, he began taping a youth talk show called On Your Level. With a shoe-string budget and public access television as a platform, he talked with the youth and led discussions about the issues. On Your Level was set in a town hall setting, with audiences ranging from three people to audiences of fifty. Instead of focusing the show on himself, common in many talk shows today, Karsch often focused the cameras on the youth.
"I don't want to sound like a preacher, but I believe in 30 minutes I could casually share with these kids could possibly realign their perspectives. I want to let them share with me what's going on. I also want the kids to have the guts to tell me I'm wrong."
While working on the show, Blair also compiled a book of poetry for youth, Bigger Than Cool.
"Kids need a connection to why they're in school," said Karsch. "Hopefully, this book will give them some sort of connection."
In early 1999, public access television was pulled from the airwaves in Indianapolis. While Blair struggled to keep his show in the public eye, he still continued to substitute in over six school systems and sixty schools. And in 1999, he launched his own Web site, BlairKarsch.com. While On Your Level is no longer airing, Karsch is working with youth councils and various agencies to get his show produced and shown on other television stations in Indianapolis.
Blair is a vegetarian and is an active member of the Jewish faith. He also keeps busy by playing basketball and running. He is inspired by such people as Robert F. Kennedy, Martin Luther King, Jr., Gil Scott Herron and Dick Gregory. He also loves listening to music by Bob Dylan, John Hiatt, Joni Mitchell, Bonnie Raitt, Jackson Brown and Kenneth "Babyface" Edmonds. When he's not busy substituting, he often lends his passion to youth advocacy, politics, social activism and the abolition of the death penalty.