Lamar Holliday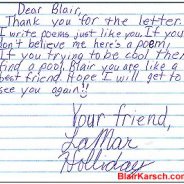 Dear Blair,
Thank you for the letter. I write poems just like you. If you don't believe me here's a poem, If you trying to be cool then find a pool. Blair you are like a best friend. Hope I will get to see you again!!
Your friend,
Lamar Holliday
Cooler Then School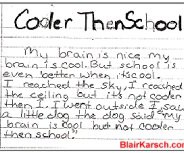 My brain is nice my brain is cool. But school is even better when it's cool. I reached the sky, I reached the ceiling but it's not cooler then I. I went outside I saw a little dog said "my brain is cool but not cooler then school.
Diana Michelle Shepard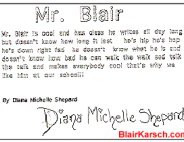 Mr. Blair
Mr. Blair is cool and hes class he writes all day long but doesn't know how long it last. He's hip he's hope he's down right bad. He doesn't know bad he can walk the walk and talk the talk and makes everybody cool that's why we like him at our school!!
By Diana Michelle Shepard
Emily Schankerman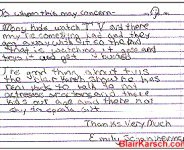 To whom this may concern –
Many kids watch TV and there may be something bad and they go away with is so the bad that is watching it goes and tries it and gets busted.
The good thing about this the blair Karsch show he has real kids to talk to not actresses or actors and these kids our age and there not shy to speak out.
Thanks very much
Emily Schankerman
BLAIR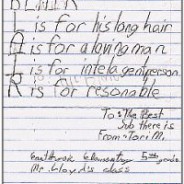 BLAIR
L is for his long hair
A is for a loving man
I is for intelagent person
R is for resonable
To: The Best Sub there is
From: Tori M.
Eastbrook Elementary 5th grade
Mr. Lloyd's class
Brad Thompson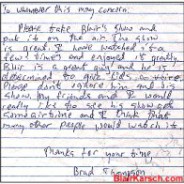 To whomever this may concern.
Please take Blair's show and put it on the air. The show is great. I have watched it a few times and enjoyed it greatly. Blair is a great guy and he is determined to give kids a voice. Please don't ignore him and his show. My friends and I would really like to see his show get some airtime and I think that many other people would watch it.
Thanks for your time,
Brad Thompson
Ryan Wells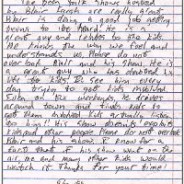 To Whomever it may concern:
The teen talk show hosted by Blair Karsch are really great. Blair is doing a good job getting teens to be heard. He is a great guy and listens to the kids. He knows the way we feel and understands us. Please do not overlook Blair and his show. He is a great guy who has dedicated his life to kids. I see him every day trying to get kids involved. Even on the weekends, he drives around town and finds kids to get them involved. Kids actually listen to him!! His show doesn't exploit kids and other people. Please do not overlook Blair and his show. I know for a fact that if his show went on the air, me and many other kids would watch it. Thanks for your time!
Thanks,
Ryan Wells
(Student)
Becky Warren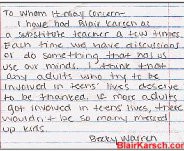 To whom it may concern –
I have had Blair Karsch as a substitute a few times. Each time we have discussions or do something that has us use our minds. I think that any adults who try to be involved in teens' lives deserve to be thanked. If more adults got involved in teens' lives, there wouldn't be so many messed up kids.
Becky Warren
Shana -> a true product of generation X!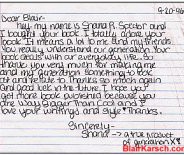 Dear Blair –
hey my name is Shana R. Spector and I bought your book. I totally adore your look. It means a lot to me and my friends. You really understand our generation. Your book deals with our everyday life… So thank you very much for making me and my generation something to look at and relate to. Thanks so much again and good luck in the future. I hope you get more book published because you are way Bigger Than Cool and I love your writings and style! Thanks.
Sincerely –
Shana -> a true product of generation X!
Mr. Blair the Substitute!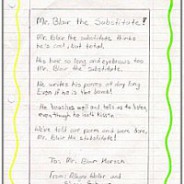 Mr. Blair the Substitute!
Mr. Blair the substitute think he's cool, but total.
His hair so long and eyebrows too. Mr. Blair the substitute.
He writes his poems all day long. Even if he is the bomb!
He teaches well and tells us to listen, even though he isn't kiss'in.
We've told our poem and we're done. Mr. Blair the substitute!
To: Mr. Blair Karsch
From: Allegra Waller and Shana Schwarz